Aug/Oct 2015: Caloric Intake from olive oil and Weight Control
The struggle with adjusting to the Mediterranean Diet centers on maintaining your weight while being on olive and canola oils, fatty fish, nuts and chocolate. This is an exhausting struggle because no clear strategic understanding is available on how to balance the daily high caloric intake from these sources of 'good fats' with an excess of available calories that are not only just deposited in fatty tissue. The fat cells in return trigger a natural addiction cycle to consume more calories and thus create a hard to overcome challenge. Suddenly, at about 156 lbs and visible mid-section expansion of my body, I realized that I was constantly snacking on 'healthy snacks' like low-fat whole grain pretzels, nuts, dried cranberries and fruit. As a result, at first unnoticeably, my weight climbed steadily further up. When, after my daily 1.5 hrs workout before breakfast and following weight control, my weight began surpassing 160 lbs I started to be conscious of the problem and luckily was able to make some radical changes.
I had similar problems before my quadruple heart surgery in 2010 (see below under: Dec 2004-2009 – Long time ago). As so often reported by others, it's easy to drop weight but it is hard to maintain a lower weight. I got soon my old weight back and my cholesterol levels worsened but I never understood how to change the underlying lifestyle to the better.
After my heart surgery I tried to improve my lifestyle by following very strictly Esselstyn's Diet (May 2010-2014 – Klaus' Heart Disease Story). It did a marvelous job in maintaining a low weight, since it offers so few calories that a fat-cell-dependent caloric addiction cycle never started, despite of doubling or tripling portion sizes for satisfying arising hunger feelings.
Once it was scientifically proven in 2014 that this vegan low-caloric diet does not bare any real health benefits, like reduction of heart disease or increase of longevity, I expanded it with recommended components of the Mediterranean diet like olive oils, fatty fish, nuts and chocolates (all said to provide such benefits). The olive oil did an amazing good job on my cholesterol levels changing them to ideal for maximum longevity, but it seemed also to create the before mentioned problems in weight control.
My strategy to illuminate the role of olive oil in my weight gain is simple: 1. Maintain all beneficial activities of my lifestyle, 2. Stop snacking, and 3. Reduce caloric intake to the bare minimum. Then, the weight should drop to a plateau reflecting the minimum weight base line for that particular lifestyle. On this basis I would then be able to add again suspected culprits of the initial weight gain and achieve again a steady but now at a higher level reflecting those new caloric conditions. Then, it would be up to my free will, to choose how many calories from which source to add for the establishment of my desired steady weight.
Phase 1: Reduction of caloric intake to a bare minimum.
While maintaining my daily lifestyle behavior (in the morning 1.5 hrs gym) I reduced my meals to very low calorie intake, without changing them in principles (as would have be done according to Atkins's with the elimination of carbohydrate): 1. No Olive Oil, 2. No Granola for Breakfast, 3. No green salad for dinner, 4. No Red Wine for dinner and evening, and 5. No in-between snacking, like 3-4 servings of apples, oranges, grapes, whole-grain pretzels, chocolates, almonds and walnuts with dried cranberries, etc.. I maintained all my supplements.
| | | |
| --- | --- | --- |
| Breakfast | Lunch | Dinner |
| No granola with fat-free soy milk, only the protein-berry drink. | Only 2 pieces of whole wheat unleavened crisp bread. | One 1.5 or 2 cup sized Esselstyn meal plus supplements. |
| <![if !vml]><![endif]> | <![if !vml]><![endif]> | <![if !vml]><![endif]> |
Practically, I had my protein shake in the morning, two pieces of dried flat bread during the day and one single small portion of vegetarian meal in the evening. In the first three days I satisfied my craving for snacks by drinking approximately 2 liters a day of diet ginger ale. At day four, when I could no longer stand the soda, I switched to Seltzer water. The results are obvious showing after three of step decline a flatter approximately linear decrease of my weight over five weeks:
 <![if !vml]>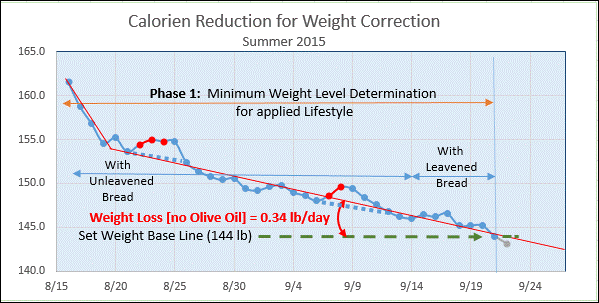 <![endif]>
Interestingly again, the weight dropped rapidly for three days and then declined
seemingly linear 0.3.4 lb/day without flattening out. This indicated that my envisioned
weight baseline of 145 lb was still above a possible minimum weight.
Lunch Modification
Four slices of leavened whole wheat Italian long bread
<![if !vml]>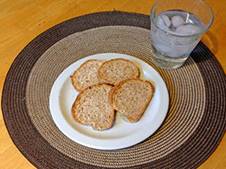 <![endif]>
Two episodes modified the steadily reducing weight curve through delayed defecation: A lobster/corn (without butter) dinner combined, a day later, with a pita and hummus lunch (three thick pitas) seen in the peak to the left, and a grilled shrimp meal (1/2 lb = 16 larger shrimps only with cocktail sauce) caused the peak to the right. The three to four day long intestinal residence of the proteins (in contrast to the 12-15 hrs used by greens) caused no real weight gains. After five weeks dieting I reached my minimum weight target at about 145 lbs, similar to that of my sport-supported high school weight but 5 lbs lower than that established by the Esselstyn diet. At no time was measurable ketosis initiated (see Atkins). So this was a proper weight loss regime driven by exercise and reduced calorie intake and caused by the physiologically preferred pathway of glycolysis. During this phase I felt great and, astonishing enough, I had no longer any cravings for snacks or felt hungry but very energetic and spiritually harmonized. These are feelings often reported for low calories conditions in healthy living lifestyles. Although I consumed no fresh salad greens or eat several helping of fruit (which is generally not preferred), my physiology was healthy (healthy hair, nails and smooth skin), which indicates that my Esselstyn-recommended mineral, vitamin and protein supplements did a sufficient job.
Just to make sure that the leavened whole wheat Italian bread, used for the olive oil consumption, did not have any effect on the minimum weight, I changed for one week the lunch menu from 2 pieces of crispbread to four slices of long Italian whole wheat bread. The chart reveals no effects, what so ever, of this switch in the weight curve.
Phase 2: Caloric intake increase from 2.5 tablespoons of virgin olive oil.
The Esselstyn diet is a pronounced very-low-fat vegan diet that does not allow any plant oils. Changing the diet to include 300 calories from fat (oil) may require the body to change its digestive functions with special enzyme expressions. Such changes may require several weeks, making it necessary to stay in the second phase of diet analysis for at least three weeks for the observation of the effect of the added olive oil.
The lunch and the dinner were modified by adding to each 1 ¼ tablespoon of extra virgin olive oil collected and consumed with 2 slices of whole wheat Italian long bread.
| | | |
| --- | --- | --- |
| Breakfast, unchanged | Lunch with Olive Oil | Dinner with Olive Oil |
| No granola with fat-free soy milk, only the protein-berry drink, medications and supplements. | Two slices of whole wheat Italian long bread and 1 ¼ tablespoons of olive oil. | One 1.5 or 2 cup sized Esselstyn meal. 1 tablespoon of olive oil with bread, 1 small salad with a ½ tablespoon olive oil containing dressing and supplements. |
| <![if !vml]><![endif]> | <![if !vml]><![endif]> | <![if !vml]><![endif]> |
After one week I added back a small salad tossed with a sesame-olive oil dressing that contained 50% olive oil. With that salad addition the dinner is now fully restore to pre-reduction levels. However, wine for dinner and cereal for breakfast are not yet included.
<![if !vml]>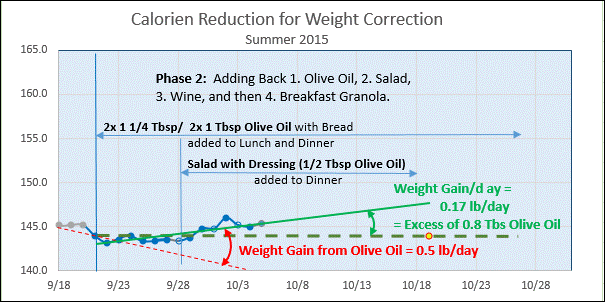 <![endif]>
Dinner Modification
Including a salad with dressing containing ½ Tbsp of olive oil.
<![if !vml]>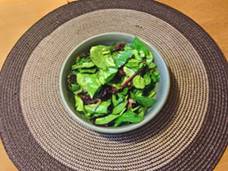 <![endif]>
First indications show that the added olive oil in fact is raising my weight by 0.5 lb/day, which, instead of steadily dropping by 0.34 lb/day, is now starting to compensate the weight loss and is actually beginning to increase my weight by 0.17 lb/day. The 2.5 Tbsp olive oil is definitely a big load of 300 calories, which I obviously do not fully burn under my specific lifestyle conditions chosen for this test (low weight of 143.2 lb, reduced breakfast, no wine for dinner and no fruits and snacks, but unreduced activities in the gym burning 450 calories each morning). After ~2 weeks, when the digestive system will have adjusted to the olive oil consumption, the weight should at some point stabilize because the increase body mass will consume the excess of calories. The added salad by unchanged olive oil volume did not seem to make any impact on the weight curve.
The bare minimum diet includes now fresh salads, making it more complete, so that I will stay on it for now until my next blood test in three weeks before changing anything else. Then, the results from dieting hopefully will clarify the situation even better. However, the new salad addition makes the dinner really rich and I'm stuffed after finishing the bread with olive oils, the salad with olive oil and the meal serving.
Breakfast, unchanged

Lunch with Salad

Dinner,

unchanged

Only a
 protein-berry drink, medications and supplements.

Two slices of whole wheat Italian long bread and 1 Tablespoon of olive oil and 1 salad with ½ Tbsp olive oil containing dressing. Herb Tea or water.

One 1.5 or 2 cup sized Esselstyn meal. 1 Tablespoon of olive oil with bread and supplements.

<![if !vml]><![endif]>

<![if !vml]><![endif]>

<![if !vml]><![endif]>
What will happen? Will my weight continue to increase linearly or will there be finally a steady-state at a constant but elevated level? Well, here are the first results: My weight seemed to stabilize for 10 days at proximal 145 lb after I had gained 2 pounds.
<![if !vml]>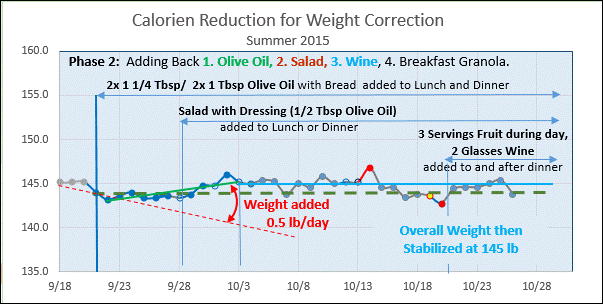 <![endif]>
It is again clear that deviation from my routine is answered immediately by my physiology. On 10/13 was such an occasion with a birthday celebration (wine, champagne and lots of bread). The alcohol led to retaining of a lot of water in my tissue so that my weight jumped by 1.5 pounds. However, it dissipated within the following day
Now it was time for my cholesterol analysis. Look at these results which just blow my mind: the olive oil caused the same HDL and LDL pattern as it did two years ago!
<![if !vml]>
<![endif]>
Listed values are the component results from the latest lab results
(with 71 mg/dL triglycerides).
While maintaining my life style but after weight loss for 5 weeks of 15 lbs, I started to take again 2.5 tablespoons of olive oil. Nothing else was changed for the next four weeks. Look at what the addition of olive oil did! It balanced HDL and LDL to an ideal proportion, which promises heart health and longevity!  The cholesterol physiology behaves like a biomedical machine, feeding the right things into it will produce a predictable outcome! The relaxation of my diet rules in the past two years led instead of stabilization of my weight to a steady increase. After recovering my excellent cholesterol values, I now have a good incentive for more carefully tailor my diet so as to prevent the previous weight related pitfall of the olive oil derived Mediterranean diet, the temptation to add more calories in an uncontrolled manner through in between snacking.
Well, after this great lab result from my reduced cardio fusion diet, I added back some of my favorite enjoyments starting with 3-4 helpings of fresh fruit (it's fall harvest time with fresh apples, green grapes and pears) and 2 glasses of wine, one red for dinner and one white of German origin for my evening leisure. As the weight chart indicates my weight stayed steady at around 145 lbs. In the gym I am back with my full stamina and endurance and afterwards feel refreshed and great.
I conclusion of this weight study, it must have been the "snacking" in between the meals that caused all my weight gain initializing the fat-trap. This time, I'll be aware of the temptations and chose instead of pretzels and chips a glass of ice water!
These are the sources for Additional Calories previously included in daily food consumption (total of 600 calories):
1. One 6 oz glass of red wine (10% alcohol) has 150 calories.
2. One serving of fruit provides approximately 50 calories. Four servings provided 200 calories.
3. Breakfast Cereal: 1/3 cup of granola 125 calories plus 1 cup of fat-free soy milk 70 calories. Total 195 calories.
4. A hand-full of mixed nuts and cranberries (1/4 cup) adds 210 calories